Oasis Biocompatible Super-Concentrated Laundry Liquid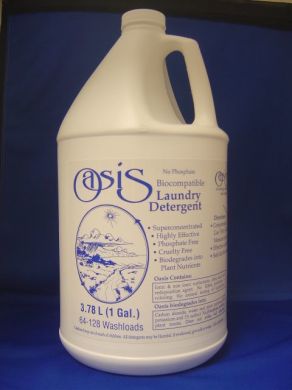 (Available in West coast stores only)
An eight to a quarter cup cleans effectively at all water temperatures, even in hard water. One gallon of Oasis yields more than 3,200 gallons of washwater which is safe for plants and fully reusable for irrigation. The special formula has no sodium salts.
Oasis Biocompatible Laundry Detergent is designed and tested to be biocompatible with plants and soil, as well as for the disposal of treated wastewater in aquatic ecosystems. It is the best choice for septic tank disposal and the only choice for reusing wash water for irrigating plants-the most ecological alternative. Disposed of in a septic tank or greywater system, microorganisms and plant roots will biodegrade Oasis.
Please note: The ingredients in Oasis do not contain any sodium salts. The chemical names of many surfactants (detergents) stay the same whether sodium or potassium is used in the formula.
Ingredient List to Comply with California Senate Bill 258
Ingredient Disclosure Name
CAS Number
Function
Water
7732-18-5
Diluent

Alcohols C12-15, ethoxylated

Alcohols, C9-11, ethoxylated

Benzenesulfonic Acid, C10-16 alkyl

Potassium Hydroxide
1310-58-3
Builder
Potassium Chloride
7447-40-7
Thickening Agent
Benzisothiazolinone
Methylisothiazolinone
Methylchloroisothiazolinone
2634-33-5
2682-20-4
55965-84-9
Preservative
Preservative
Preservative
Limonene
5989-27-5
Fragrance
This product contains fragrance allergen, Limonene
More information on CAS numbers.
** If a CAS number is not available or if the intentionally added ingredient is confidential business information, the phrase "not available" or "withheld," respectively, shall be used in place of the CAS number.
Directions: Use 1 oz. (1/8 cup) for front loader,  2 oz. (1/4 cup) for top loading machines. Use more for heavily soiled loads or large capactiy washers. Always test for colorfastness by rubbing a small amount directly on a hidden part of the fabric. Rinse thoroughly and check. Use with hot or cold water.