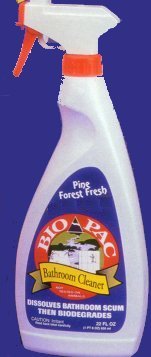 This product has been discontinued.
Our truly innovative bathroom cleaner. This unique formula safely dissolves soap scum, won't scratch and leaves bathrooms smelling pine forest fresh. There is no longer any tea tree oil in the formula.
(UPC 31984-22000). Packed 12 to a case in recycled plastic bottles.
Ingredients: Water, linear alcohol ethoxylate, propylene glycol normal butyl ether, amine oxide, cocopoly ethoxy oxyethylene methyl ammonium chloride, EDTA, Pine oil, sodium metasilicate pentahydrate.
Directions: Direct liquid on dirt and grim and wipe off with sponge, towel or rag. Repeat if necessary.